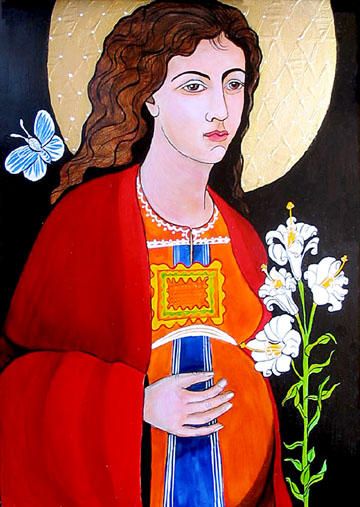 Pregnant Mary
Art by Unknown
Yeshua Upon Mary Magdalene
She had one of the loneliest smiles...
Other times her eyes would get reckless.
She was a richly textured being, with strange & wonderful habits.
Pert & lively... she'd flirt.
She was a heated bhakti. The power to erupt in love surged in Magdalene... *still* surges in her! More passionate than most... more frisky... feeling free in her femininity.
She was always my angel... and she always will be...
Always...
She was bound by love into eternal gratitude to me... and I to her...
She added depth & soul to the Passion...
She was hung up on me. She would never have let me go if she hadn't had to flee to save her life... and our daughter's.
Sometimes she was like the wind, coming into my life -- so refreshing! But like Wisdom, too... Priestess of Golden Isis... she *knew*!
She was a friend, forever... She was for *real*... she could be trusted, wholly. There was a *rootedness* to her.
How could she be like the wind & rooted, too? Paradox & contradiction -- part of the rich textures of her being...
She was *so* creative. She wrote. She was, & will be, a cultural legacy.
There was a secret ambience between us. *She* knew... *I* knew...
Her memory can cast up some wonderful things... many yet to come...
She is voice for the silent soul of the beautiful...
Bound by love into eternal gratitude, she grails... as a living cup of Her Secrets. She is bridge to the Bride of Light.
She was establishing a Foundation -- in her love for me; she continues to -- in our love & service to *Her*.
She is a teacher of the nascent Science of Divinity.
~~wynn manners
5 January 2005
Discussions of and poetry upon Mary Magdalene, Yeshua, Sophia and Shekinah are happening here:
Yeshua and Mirya
http://groups.yahoo.com/group/yeshuamirya/