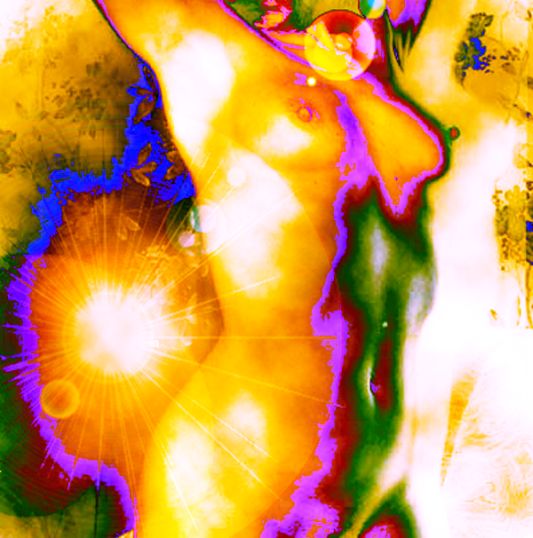 Feminine Mystique 7
Art by Norman E. Masters
Endlessly Alluring Sophia
Endlessly alluring Sophia, You have womanifested into so many forms & images of divinized flesh thruout all of space & time -- unveiling Your awesome splendors for those who would know You most intimately. You are the mystery of the hidden dark, the secret of the ages. With glimpses of Your naked beauty, You seduce us into the inflow of your Golden Energies...
As You undress, Sophia, Your Living Light infloods us, inspires us; and we stand awonder before Your naked beauty, breathing deeply the fragrance of You, so tantalizing. You invite us to take sacramental refreshment *with* You!
Holy holy holy, the tasting of the nectar of Your kisses; milk and wine flow from Your delectable breasts. We sup the ambrosia of Your ecstasy from Your chalice of regeneration -- such exquisite beauty in the sweet infolding of Your petals, parting for our deeper pleasures.
In ecstasy's sweet conJOY!in*ing we enter so deeply *in*to each other. You chrism our *now* with Your delicately sensuous deliciousness -- all-blossoming with the pollen of Eternal*Light, lambent Light*Seeds fructifying from the core of our juicing.
In sacramental joy we share your Cup of Eternal Life, Sophia, to ascend into Divine Bliss, together, entering Your Golden Glory.
~~ wynn manners
7.IV.2002