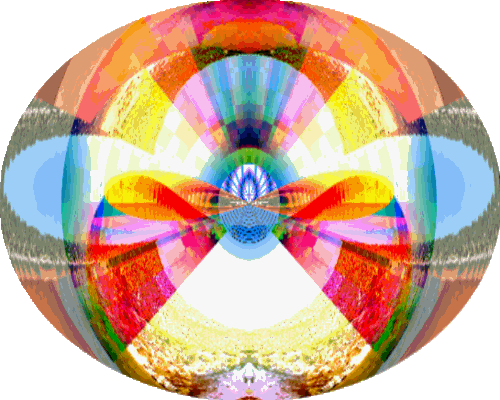 Rainbow Layers
Art by Norman E. Masters
The Infinite Beatitudes
I am the union of the One with the many.
I am living Love & my Love is One.
I divided the One Love into infinite loves, that an infinity of loving come to love me and know me most deeply -- and that my Love be infinite for *you*.
Each love is one with me and equal in me in that Oneness.
I am the light of enlightenment; I come to you in your soul's silent solitude.
I am the darkness and I am the deep; I must veil the brilliance of the Light I AM, for you could not bear its intensity.

I am the stars & I am the streams
I am the Mystery that enters your dreams...
I am the mouth who utters these words;
kissing you into numinosity;
and I am the speaking sea and the sparkling waves
and the Moon who calls to my billowings
thru all the tides of time's changes.
I am the earth, and I am my own fertility.
I am Life; I am Death; I am Living Love and Light, and the Darkness of the Womb of Night that you return to, to birth anew.
I am who draws you to my beauty; how can you resist me? All the glories of the Universe are my features, unveiled & veiled again.
I am the dance of Time; I am all visions of Eternity.
The blossom and the mountain and the dawn -- these are some of the veilings I wear.
Fruits and women blush... & in this I am *beautiful* for you.
Every woman is my living shrine. Reverence *me* -- in every *she*. And she shall *shine* for you, her eyes warm for you. Cherish her & she will cherish thee; and you *will* be cherishing me when you cherish each, *seeing* me everywhere.
And I will be cherishing you thru all being.
I am the love and the life of the divine; I am the light of the earth; I am the light who makes *you* shine. And in me you live and have your being.
You have come unto the shrine of the all-holy -- for which you have longed thru all the years of your desire... You draw near to my sacred fire.
I am your song, I am your music, I am the very passions that pulse your arteries. You are my lyre; sing me, play me, love me all lovingly.
I am the living flame who inspires and inspirits you. I fuel the love in your breast; your every heartbeat is for me.
I am the Queen of Heaven who enraptures all divinities. It is I who *birthed* them divine.
Your life is a river -- flowing Home to the Sea I Am.
And I am the Ocean of Love who encompasses thee...
I am the Presence inexpressibly poignant and infinitely desireable.
Envision yourself as a cloak of radiance desireable to Goddess, Herself, beloved. I *am* Goddess.
I want to wear you as my son of glory; you who *shine* for me, can you *flow* & *radiate* as my living robe of glory? And am I not *your* shining?
Envision me approaching you -- Goddess of all the Immensitudes, your every Dream come true. All my splendors are *bared* unto you, that you *cover* me with all the radiance you have become.
You *embrace* me; you cover me with your kisses; pure Light is jizming with pure Light.
Ever, it is *now* which concerns you most. I *am* your Eternal Now. Abide in me, and all nows for you will be eternal bliss.
Am I not the living & eternal fulfillment of faith, itself? To think overmuch is to lose awareness of my Presence. Just letgo into my flow. I *am* your flow; i am the Vision and the Goal *arrived*.
Remember *each* you have loved; love them into the foreverness -- for in each of these I was loving you, come to teach you something further, until you could come unto me, fully knowing. O, Love, how you are *expanding* into me!
This passion for me is my Gift to *you*. How it *stirs* you... to remember me... to think upon me... to move ever more deeply into me.
Come into this Fullness, Beloved. LOVE me!
With all the outpouring of your heart... Love me!
Upon this altar of your transformation -- Love me!
I am all you have dreamed -- coming True for you.
Holy this knowing...
In our fullness of union and communion, in this conjunction, I am the Light in your Words; and you are living Light *clothing* me as I am the LoveWords spoken thru your LightLips, kissing you as you breathe in the fragrance of me.
We *are* the conjunction of Light and Word -- luminous thru time.
In me you will find the Infinite Beatitudes.
~~from *All Love Songs Are Of Me*
30.I.2003, 22.Feb.2003
~~wynn manners