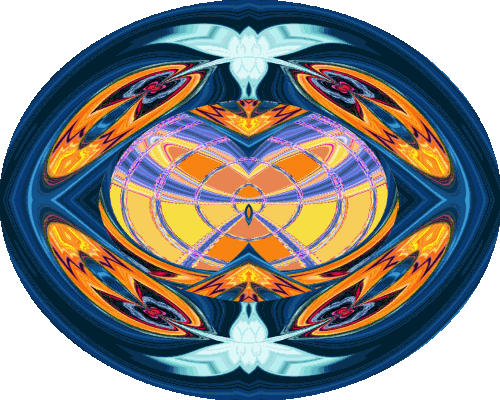 What Dance This?
Art by Norman E. Masters
The Eucharist of Love
She comes to us bearing the eucharist of love...
In the sanctitude of a moment -- in all its sweetness & depth, we know Her & that Her Presence is here.
From the first dawn of human memory to the last transfiguration of love, She abides with us.
We drink from Her cup of joy -- & what a marvellous transformation... unto beatitude...
Her Living Presence is music made visible -- spring buddings, summer blossomings, the fall of leaves, the succulence of all Her juices, fruiting, the seeding... each snowflake softly falling.
Clothed in music, She can be seen as the sway of the flames on a Yule log or on the single wick of a single candle, like an angel of light... or as green foliage dancing with the wakening wind... She is ever-green... Cloud shapes are Her veils...
Sometimes the sensible vibration of living lips & the lighting up of eyes lets out Her secret spirit, wild within! Indeed, Her essence has never been tamed -- nor would we want it to be!
~~ norea st. john
Dec. 22, 2002