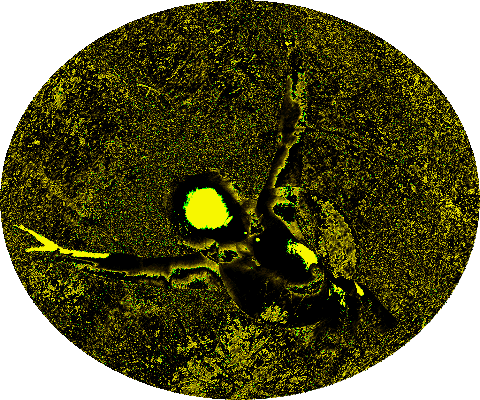 Art by Norman E. Masters
*dust dreaming stars, again*
And o but I have been the fool of time many a time, thru countless lifetimes of dreaming... And tho I know, not yet, where the beginnings of Wisdom are to be tapped in each life... still... a deep-souled yearning thirsts for those deepest wellsprings...
Time works its slow alchemy, even with one such as I, wandering amidst this maze of infinities...
Time... warning so fleeting, enigmatic and bleeding, futurepast blending into now, tolling & tinkling, scritch-scratching at my mind... let not all memories be forgotten...
Luminous hints of concealed divinity begin to be seen within each shape of wonder one marvels upon. Each beauty one adores -- something within yearns to fullsomely be. Such piquant ecstasy...
Beauty enchants with its sorcery of wonder; beauty softens the seeing to dream delicately on...
How to name all the names of beauty -- amidst time's transiencies?
The simple complexity of the slow sorcery of the fragrance of arnica and pine (drifting upon a vagrant wind) can be a mystical experience that brings the soul to sing.
The stars, themselves, across the folds of night prophesy in Light...
And I, though no more than dust (of *stars*) that dreams -- marvel, still, that this dreaming dust can see with eyes to wonder...
~~ Norman E. Masters