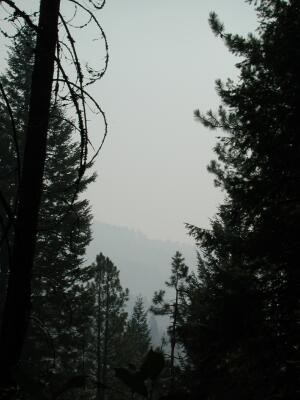 Photo by Gamaliel Masters
ABSENCE IN AUGUST
Suddenly,
emptiness,
a quiet strange to the place
flowing outward to boundaries
beyond seeing... yet still
the unceasing, unending chirp
of crickets,
the fretful wind whispering
to burnished fields,
the wandering wind talking
in shimmering river willows,
only a dark fog on morning mountains
distantly shadowing
a great, golden ocean of air.
I sink...
a small black stone
down to a shelf
hidden in the fathoms of stillness,
drowned in the weight of the stillness,
with you not here.
Irene Dodge
Absence In August is not a poem meant to express the absence of one lost in death. It was written in 1984 to express my emotions felt when my daughter had departed to have surgery. It is an attempt to express the emptiness we all feel when a loved one departs -- especially company consisting of not often seen loved ones.
My small attempts to express emotion in poetry have always been to try to express those which are not mine alone but experienced pretty universally by all the human race.
Irene Dodge
July 31, 1999