Sara Teasdale

14 poems from FLAME AND SHADOW
Introduction
When i was in high school Sara Teasdale's poetry was still preserved in the 11th grade American literature textbooks. My teacher, then, Miss Hilda Benjamin (about 5' tall with bleached blonde hair; John Black would come down the hall and pat her atop the head, looming about a foot and a half taller than her), taught the poems with the disclaimer, beforehand, that she utterly *loathed* this woman's poetry (but loved that of Sidney Lanier -- who was native to her own birthplace, Macon, Georgia).
Decades later, perhaps after Kody Ryan recommended Sara's poetry so highly to me, i tracked down some of her volumes at King's Bookstore in Detroit -- right across the street from the Greyhound Bus Station, currently -- a *warehouse* full of books, 3 stories high! that one could utterly get lost in for a day! *Never* in my life have i experienced such utter *joy* upon a bookseller's face as that day i bought 3 volumes of Sara's poetry from John King's shelves -- at between $6 & $8 apiece. He was *ecstatic* that after decades of gathering dust, there, someone had finally *bought* them! Unfortunately I lost the two *best* of those volumes when a fire took our home a few years later -- and now have to "makedo" with xeroxes of copies borrowed on interlibrary loan.
When i look back upon the poems in our high school textbook (1958-9) & realize that by the time *i* was teaching American Lit in 1967 that the newer textbooks had already *eliminated* her poetry (opting for more modern, perhaps more "relevant" poets) i reflect that it was a terrible *shame* that those Last Remnants of Sara Teasdale's poetizing (attempting to introduce & perhaps even seduce!? youth to Remember Her) were of the drippy, sentimentalistic, all-too-maudlin, (*bleccchhhy!*) IDEALS Magazine type -- which, for at least yours truly, moved not the *heart* so much as the *stomach*, as was so with our teacher, then.
But i wonder if Miss Benjamin ever did Sara the service of reading her *best* poetry -- rather than just dutifully and resignedly teaching her *worst*? What a horrendous fate for *any* poet -- to be remembered for their *worst* rather than their best!
Herewith -- in retro(justi)fication -- some of Sara Teasdale's *best* (at least in *this* poet's opinion). Please! If Sara is to be remembered -- remember her for *these*! And hopefully they'll tempt a few of you to seek out some of the rest of what she wrote -- to discover your *own* personal favorites -- even if they turn out to be the maudlin ones! ;O
~~norman e. masters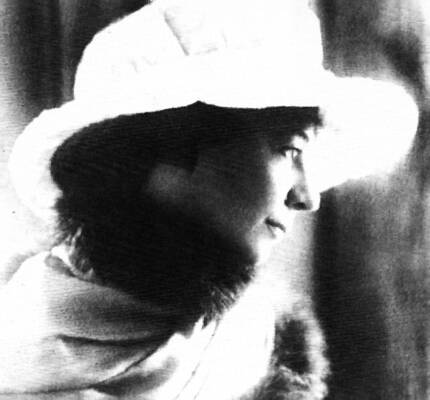 Sara Teasdale, circa 1913
THE SANCTUARY

If I could keep my innermost Me

Fearless, aloof and free

Of the least breath of love or hate,

And not disconsolate

At the sick load of sorrow laid on men;

If I could keep a sanctuary there

Free even of prayer,

If I could do this, then,

With quiet candor as I grew more wise

I could look even at God with grave forgiving eyes.

CHANGE

Remember me as I was then;

  Turn from me now, but always see

The laughing shadowy girl who stood

  At midnight by the flowering tree,

With eyes that love had made as bright

As the trembling stars of the summer night.


Turn from me now, but always hear

  The muted laughter in the dew

Of that one year of youth we had,

  The only youth we ever knew --

Turn from me now, or you will see

What other years have done to me.

DUST

When I went to look at what had long been hidden,

  A jewel laid long ago in a secret place,

I trembled, for I thought to see its dark deep fire --

  But only a pinch of dust blew up in my face.


I almost gave my life long ago for a thing

  That has gone to dust, now, stinging my eyes --

It is strange how often a heart must be broken

  Before the years can make it wise.

"THERE WILL COME SOFT RAINS"
(War Time)

There will come soft rains and the smell of the ground,

And swallows circling with their shimmering sound;


And frogs in the pools singing at night,

And wild plum-trees in tremulous light;


Robins will wear their feathery fire

Whistling their whims on a low fence-wire;


And not one will know of the war, not one

Will care at last when it is done.


Not one would mind, neither bird nor tree

If mankind perished utterly;


And Spring herself, when she woke at dawn,

Would scarcely know that we were gone.

AT MIDNIGHT

Now at last I have come to see what life is,

  Nothing is ever ended, everything only begun,

And the bare victories that seem so splendid

  Are never really won.


Even love that I built my spirit's house for,

  Comes like a brooding and baffled guest,

And music and men's praise and even laughter

  Are not so good as rest.

"WHAT DO I CARE?"

What do I care, in the dreams and the languor of spring,

  That my songs do not show me at all?

For they are a fragrance, and I am a flint and a fire,

  I am an answer, they are only a call.


But what do I care, for love will be over so soon,

  Let my heart have its say and my mind stand idly by,

For my mind is proud and strong enough to be silent,

  It is my heart that makes my songs, not I.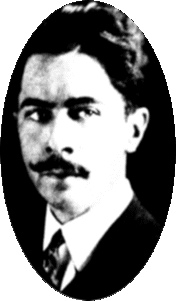 John Hall Wheelock, circa 1918
One of Sara's lovers.
Sara was stricken with *him*
but he loved another more.
DRIFTWOOD

My forefathers gave me

  My spirit's shaken flame,

The shape of hands, the beat of heart,

  The letters of my name.



But it was my lovers,

  And not my sleeping sires,

Who gave the flame its changeful

  And iridescent fires;



As the driftwood burning

  Learned its jewelled blaze

From the sea's blue splendor

  Of colored nights and days.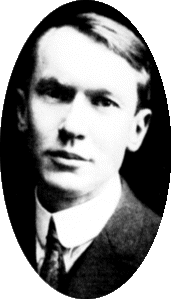 Vachel Lindsay, 1913
The other of Sara's lovers.
He was more attracted to Sara than she to him.
She opted to marry Ernst Filsinger, instead.
THE VOICE

Atoms as old as stars,

Mutation on mutation,

Millions and millions of cells

Dividing yet still the same,

From ancient Eastern rivers,

From turquoise tropic seas,

Unto myself I came.


My spirit like my flesh

Sprang from a thousand sources,

From cave-man, hunter and shepherd,

From Karnak, Cyprus, Rome;

The living thoughts in me

Spring from dead men and women,

Forgotten time out of mind

And many as bubbles of foam.


Here for a moment's space

Into the light out of darkness,

I come and they come with me

Finding words with my breath;

From the wisdom of many life-times

I hear them cry:  "Forever

Seek for Beauty, she only

Fight with man against Death!"

"I HAVE LOVED HOURS AT SEA"

I have loved hours at sea, gray cities,

  The fragile secret of a flower,

Music, the making of a poem

  That gave me heaven for an hour;


First stars above a snowy hill,

  Voices of people kindly and wise,

And the great look of love, long hidden,

  Found at last in meeting eyes.


I have loved much and been loved deeply --

  Oh when my spirit's fire burns low,

Leave me the darkness and the stillness,

  I shall be tired and glad to go.

"SINCE THERE IS NO ESCAPE"

Since there is no escape, since at the end

  My body will be utterly destroyed,

This hand I love as I have loved a friend,

  This body I tended, wept with and enjoyed;

Since there is no escape even for me

  Who love life with a love too sharp to bear:

The scent of orchards in the rain, the sea

  And hours alone too still and sure for prayer --

Since darkness waits for me, then all the more

Let me go down as waves sweep to the shore

  In pride; and let me sing with my last breath;

In these few hours of light I lift my head;

Life is my lover -- I shall leave the dead

  If there is any way to baffle death.

A PRAYER

When I am dying, let me know

That I loved the blowing snow

  Although it stung like whips;

That I loved all lovely things

And I tried to take their stings

  With gay unembittered lips;

That I loved with all my strength,

To my soul's full depth and length,

  Careless if my heart must break,

That I sang as children sing

Fitting tunes to everything,

  Loving life for its own sake.

"A LITTLE WHILE"

A little while when I am gone

  My life will live in music after me,

As spun foam lifted and borne on

  After the wave is lost in the full sea.


A while these nights and days will burn

  In song with the bright frailty of foam,

Living in light before they turn

  Back to the nothingness that is their home.

THE WIND IN THE HEMLOCK

Steely stars and moon of brass,

How mockingly you watch me pass!

You know as well as I how soon

I shall be blind to stars and moon,

Deaf to the wind in the hemlock tree,

Dumb when the brown earth weighs on me.


With envious dark rage I bear,

Stars, your cold complacent stare;

Heart-broken in my hate look up,

Moon, at your clear immortal cup,

Changing to gold from dusky red --

Age after age when I am dead

To be filled up with light, and then

Emptied, to be refilled again.

What has man done that only he

Is slave to death -- so brutally

Beaten back into the earth

Impatient for him since his birth?


Oh let me shut my eyes, close out

The sight of stars and earth and be

Sheltered a minute by this tree.

Hemlock, through your fragrant boughs

There moves no anger and no doubt,

No envy of immortal things.

The night-wind murmurs of the sea

With veiled music ceaselessly,

That to my shaken spirit sings.

From their frail nest the robins rouse,

In your pungent darkness stirred,

Twittering a low drowsy word --

And me you shelter, even me.

In your quietness you house

The wind, the woman and the bird.

You speak to me and I have heard:



If I am peaceful, I shall see

Beauty's face continually;

Feeding on her wine and bread

I shall be wholly comforted,

For she can make one day for me

Rich as my lost eternity.

THE WINE

I cannot die, who drank delight

  From the cup of the crescent moon,

And hungrily as men eat bread,

  Loved the scented nights of June.


The rest may die -- but is there not

  Some shining strange escape for me

Who sought in Beauty the bright wine

  Of immortality?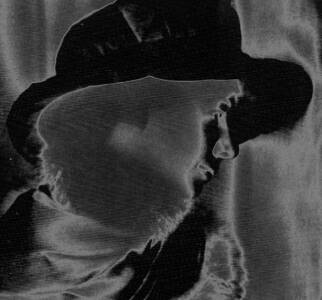 [Flame And Shadow by Sara Teasdale was published by The Macmillian Company, 1920]
An especially fine biography of Sara Teasdale (1884 - 1933) is Sara Teasdale, Woman & Poet by William Drake, published by The University of Tennessee Press, 1989, a reprint of the Harper & Row 1979 edition.
The pictures of Sara Teasdale and of her two lovers, John Hall Wheelock and Vachel Lindsay, are taken from that volume (with Photo Shop alterations in the lighting begetting some modifications). Perhaps i'll add a picture of her husband, Ernst Filsinger, if & when i get around to putting up a second selection of Sara's poems from another collection.
William Drake's biography, the first biography of Sara Teasdale quoting generously from previously unpublished materials (such as Sara's letters) reveals far more of her hidden life than had previously been allowed. One would not think that a biography of a now-neglected poetess could be *exciting* enough to rivet a reader's attention from beginning to end; but, for Yours Truly, such *was* the case with this one! The volume is well worth seeking out.
Besides Flame and Shadow, other collections of Sara Teasdale's poems include Helen of Troy and Other Poems, Rivers To The Sea, Dark of the Moon and the posthumous volume, Strange Victory.
~~ nem