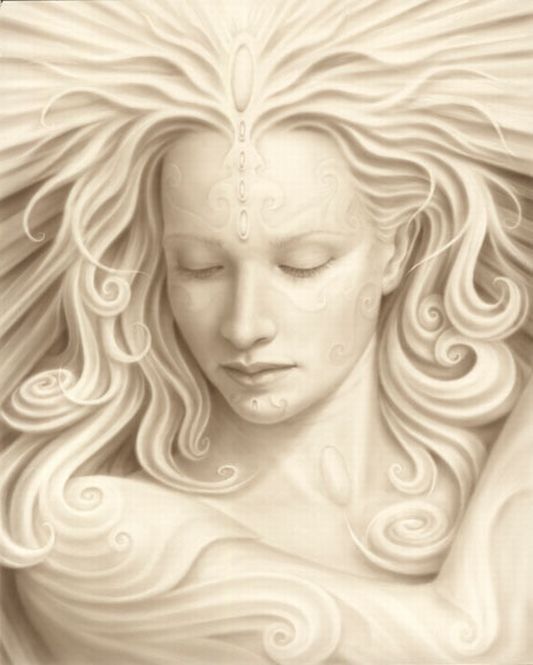 Xvarnah
Art by A. Andrew Gonzolez
Link at bottom of page.
Sacrament of Sacraments
When the Divine Feminine is emanent into flesh before our eyes we *recognize* Her... sacramentally alluring, as only the Divine Woman can be... & our heart leaps in joyous spontaneity before the mystery of such beauty... a simultaneity of heart & soul, flesh & spirit & holy emanation.
She emanates a divine tenderness... Her face is a bloom of sweetness; around her head, for those who can see the energy, is a shining aureole, circlets of light... ring within ring, vibrant with a holy jizming.
The Divine Lover can experience no less than heart-swelling immensitudes of reverence -- such a spontaneous joy of soaring devotion, such ardor of heart*speak infinitely enhanced by an immediacy of love beyond expressing... Recognizing Her, our heart melts & bursts into song... singing... singing the Mystery, Her Beauty, our Wonder, such Joy...
& o, my blushing Beloved, i would whisper*kiss you all over in the ardor of this wonder, tender into melting... Melt me with *your* caresses... that i quiver to *your* tender touch... & let not this frenzy for you be forbidden that we meld into each other in further ecstasy, that we conjoin into such intimate fusion that enhances these ecstasies in/thru each other with fresh cries of joy until the shared climaxes of our fervent & mutually ascendant rapturing are transformed unto the melting whispers of an all-permeating bliss.


~~wynn manners
28.April.2003