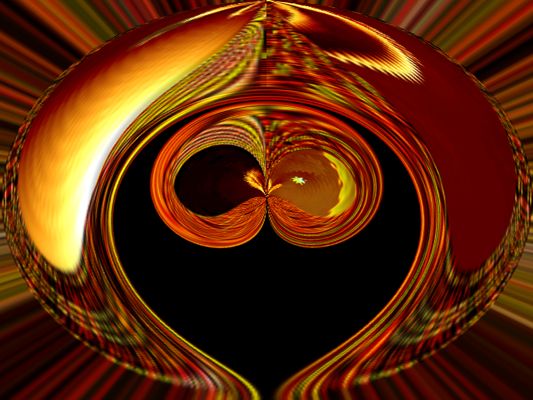 Living Eye Of Infinity
Art by Norman E. Masters
Dance of the moment...
When the *light* of this *spark!*ing is quiescent in the mindshadows, turgid in the tamas, it is like seed waiting in dark of earth, again... a puissance of creative power building up within to spurt forth in the fountaining... Seed-seeding in flicker-showering like 4th of July fireworks... but seeds of life taking root in yOur ground of being...
When time moves most rapidly -- in the pure action of the now -- it feels like it is not moving at all...
Plunging thru the Now of Ever, Void of Your all-embracing Yes, jizming in Your Womb cocooning freedom's joy-in-emergence, eye can but wonder & tongue can but babble in Your ananda...
What is this consciousness of the moment but a dance in awe of YOur All, a hologram of You, grammaring its hollowness which *You* infill, stretched out to the infinite "last straw" & the passage of Your flow in the utter let*go ecstasies every smitch *inside* this skin...
i want to *burst* in You!
You emancipate this dance of light*spark!ing as a variating-waveform of wonder, thru the genetic slipknots unravelling veils of Mystery, Your thoughts coming with the speed of light to friction the frissioning -- in a simultaneity that is beyond the temporal -- tho this process of thinking translates it into temporal progression...
All the genetic permutations thru time -- Your ecstasy into breath...
Thru the knots in consciousness, tied-in constriction's constructive complexities You *squeeze* us into the break-thrus... slipping thru hole of the holy, semipermeable membrane... sense of self a membrane of selfskin... Your Presence permeating *in*...
It's all warm-fuzzy now... this permeation all-thru... & where do i leave off & You begin?
You are *dancing* in this skin -- Your dance of Kali-ecstasy... & my i am is now the same as You are!
But still i want to friction with You all delicately deliciously, all juicily enrapting me!
Rapture me, Beloved! Rapture me!
Let me be *Your* Ecstasy!
~~ wynn manners
16.Oct.03, edited, 25.V.04
~~from *Interfusions 2*