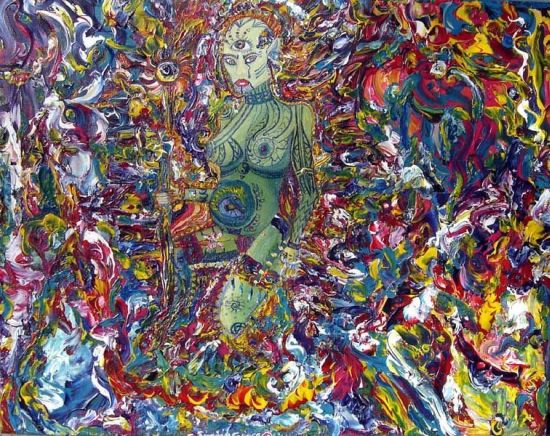 Rainbow Dancer, Ethereal Queen
Art by Ingrid Singing Grass
She Is The Flux
Of Creativity

She is the Seeing behind our sense of being.

We're all heading towards the Mother...
some more slowly awakening into Her...
others blessed with knowing the bliss of Her sooner.

All of life circulates in Her;
& to see acutely & accurately
is to know Her.

The *All* of what She is
remains out of our sight...
She circulates thru all life
womanifesting endless surprise.

She is the flux of creativity:
feel Her *now*!

When we see Her clearly
it may sound like bells ringing
in the dawn of the forever new,
ourselves awow in the tintinnabulation
in this wonder that never ends...

& always the returning, again...

We of the Sophia conjunction
know there is a certain quality about Her
that is beyond words' expressiveness...
transcending transcience,
beyond even all concepts of forever...

We could say, almost in tears, that
we have been waiting these thousands of years
for Her Call of Becoming into our lives *now*.

We see clearly how deeply She stirs in us,
& how She speaks Herself *as* you...
~~wynn manners
April 8, 2007
Eostre Day